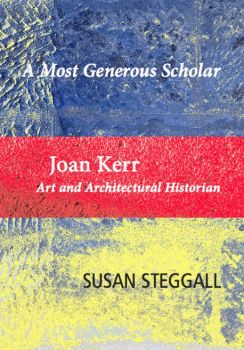 Comments
A Most Generous Scholar
Joan Kerr, art and Architectural Historian
Joan Kerr (1938-2004) was the author of two major, ground-breaking publications, The Dictionary of Australian Artists: Painters, Sketchers, Photographers and Engravers to 1870, and Heritage: the National Women's Art Book: 500 Works by 500 Australian Women Artists from Colonial Times to 1955.  In both works she insisted on including the work of women, Aboriginal artists and minor genres. Her democratic approach to Australian art history taught us how to value the entirety of Australia's visual culture.
A charismatic speaker with a popular touch, Joan Kerr used her considerable theatrical talents to great effect. A careful and rigorous academic, she was also a larrikin intellectual who relished a good argument. There were many of them and the telling of her life makes grand reading.
Art historian Susan Steggall looks at Joan Kerr's life and her considerable achievements in setting out new parameters for art and architectural history. Original, entertaining and often controversial, Joan Kerr was a one of a kind scholar.
This biography is essential reading for all those interested in the women's lives, cultural studies and the intimate histories of art and architecture.

LhR Press
For more information, contact: info@lhrpress.com.au
www.lhrpress.com.au
978-0-646-59305-0
2012
$35 + $7 postage.