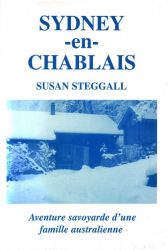 Sydney-en-Chablais: Aventure d'une famille australienne
Sydney-en-Chablais: Aventure d'une famille australienne (2002) is a translation by Susan Steggall of Alpine Beach: a family adventure. In the years following the publication of Alpine Beach many French friends in Morzine and neighbouring villages and town asked when the French version would be available. It was never going to be a commercial proposition so after much thought, I took life and reputation in hand and did it myself, ever conscious that I was breaking Rule Number One of translation, namely that you should only translate BACK INTO your mother tongue. I did the best possible job I could, using a Canadian English-French spellcheck – plus the most comprehensive English-French dictionary I could find. I worked long and hard on idioms and expression. Still I was nervous about the book's reception. I need not have worried. All our friends said 'but Susan when we read it we hear you speaking'. And I guess that is what words and language are all about – communication.
........
En 1978 la famille Steggall - John, Susan, fils Zeke sept ans, fille Zali quatre ans - quitta son pays natal, Australie, pour vivre dans les Alpes françaises. Ce fut le début d'un rapport d'une réussite extraordinaire avec les sports d'hiver.
Nous sommes partis ni pour le travail, ni pour les études, mais tout simplement par le goût d'aventure. John et moi grandîmes tout près les plages chaudes et du surf scintillant de l'Océan Pacifique. Alors pour nous, la neige poudreuse sur les pentes raides et les sommets de rocher et de glace ont toujours représentés un paradis plus exotique que les îles tropicales.
Nous passâmes dix ans en Haute-Savoie, le passage des saisons marquées par le progrès des enfants à l'école et au ski.
Sydney-en-Chablais : aventure savoyarde d'une famille australienne est à la fois autobiographique et biographique. Après tout, nous étions quatre, par moi seule, et ce livre, traduit de l'anglais par l'auteur, est le récit de nos vies.
ISBN 9-780958-196406
2002
$20.00 - contact for order
NEW!!
Now also available as an ebook
Kindle edition - click here       EPUB edition - click here