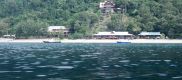 THE HOLIDAY THAT WASN'T, PART IX
 THE HOLIDAY THAT WASN'T, PART IX
8 MAY, 10.00 HOURS
Last day of the cruise and another beautiful tropical island – Pulau Tioman, in Malaysia. These islands look very much the same – some rockier, some with lagoons and whiter beaches – and the days gently roll by. How very different to our Clipper cruises in the Mediterranean where each day brings towns and villages of modern-day tourism and old histories. 
Tioman Island lies off the east coast of Peninsular Malaysia, near Pahang, in the South China Sea. It's a nature reserve, ringed by beaches. The area is known for its dive sites, which have corals, sea fans and sea sponges, as well as shipwrecks. The island is covered in tropical rainforests, home to butterflies, lizards and monkeys. On the east coast, the Juara Turtle Project is a hatchery that protects and studies sea turtles.
Tioman Island  became famous as the shooting location for the film South Pacific in 1958. The island was chosen to represent 'Bali Hai' thanks to its amazing white sand beaches and its azure waters.
It is one of the most commercialised islands on the east coast of Malaysia. It is also a duty-free island which means you can stock up on cheap products – not that I am buying much (with only carry-on plane baggage space is limited). Although this is one of the most developed islands it is still possible to get away from it all and enjoy isolated beaches and lookout spots. Some of the highlights of a trip include spending time relaxing on the beach or trekking through the lush jungles that cover the island.
It will be a bittersweet evening…. We have made friends with several couples and exchanged contact details, but somehow once the magic of the cruise fades, and everyone scatters to the four corners of the globe, when daily life takes over the reins of existence, those friendships fade into memory.
8 MAY, 2019. Because of airline schedules we have an extra day in Osaka, at no extra cost. My fellow passengers on the Trip-a-Deal tour scatter: some to take guided tours, others to shop. Me? I plan to look for art galleries since the best way to learn about a culture is through its arts and crafts. I learned to ride the trains the previous night, in the company of those two schoolteachers so felt quite confident about setting out. However… many of the main art museums were closed. The science and technology museum looked fascinating but it was not what I wanted. I settled for a truly beautiful craft museum with a display of writing and its materials and implements through the ages and a display of Korean pottery.
After a lunch of interesting delicacies (and a couple of glasses of Australian red) I ventured onto the trains again to an outer suburb and one of Osaka's main art museums. A long walk through a beautiful park crowded with eateries and families enjoying the warm spring sunshine. As for exhibitions… I was rewarded with a display of ancient scrolls and a collection of Vermeer (and Dutch School) paintings!. Not an exhibition of contemporary Japanese art in sight. By the time I had retraced my train journeys to our hotel my feet were sore and body weary. I opted for a quiet dinner in an up-market restaurant in the mega-station/hotel complex.