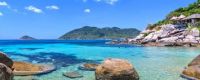 THE HOLIDAY THAT WASN'T, PART IV
3 MAY: 10.00 HOURS
Met some interesting people last night at dinner and at a night-cap at the Tropical Bar afterwards. Reminisced about my week in Japan this time last year. I went by myself as Jack wanted to stay close to Zali's campaign. I travelled well by myself, helped by food I like and a culture I admire.
The Star Clipper sailed overnight and, looking out the porthole of our cabin I see we have docked just off the Thai island of Ko Tao. After the usual great buffet breakfast it was time to gather on deck for a briefing about the day's activity and to wait for the tenders to take us ashore – a day for snorkelling and kayaking on a crystal blue sea. Twenty-nine degrees, a few clouds but no rain forecast, I am looking forward to the day.
Koh Tao is located on the east side of the Surat Thani coastline. Its name, in English, means 'Turtle Island' for the island's connection with its being inhabited by sea turtles. Its stunning coral reefs and abundant marine life in clear, warm water, attract many visitors here each year. Despite its popularity the island still manages to retain a relaxed atmosphere and lifestyle.