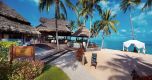 THE HOLIDAY THAT WASN'T, PART III
1 MAY, 14.00 HOURS
After a copious buffet lunch at the resort we decided to explore the main shopping area on foot: fascinating street stalls, temples of all shapes, sizes and colours and a sense that we really were in Asia – far from home. I learn that:
Ko Samui is home to about 40,000 full-time inhabitants, 90% of whom are Buddhist. It's the second largest island in Thailand and is very popular with tourists. It has a vibrant beach party scene for the lively visitor but it is also well known for its attention to mindfulness. There are an abundance of spas and wellness retreats in the resort.
Flagging by late afternoon so back to Nora Beach Resort for a swim and a spa and a snooze under the palm trees before dinner and arranging to be taken to the port where the Star Clipper will be waiting for us. We don't have to board until mid afternoon so there is plenty of time to enjoy this beautiful island.
2 MAY, 14.00 HOURS
Breakfast under palm trees in a balmy 27˙C although some clouds are gathering and there could be rain later although it is forecast to clear up by the afternoon. A swim in crystal clear turquoise water followed by a shower then a session in the spa. Then time to change, finish packing and check out to wait for our shuttle service.
2 MAY, 18.00 HOURS
Here we are on the Star Clipper after a fascinating drive across the island. Walking up the slightly rickety gangplank feels so familiar as does the deck area – like all the Royal Clipper ships. There is a complimentary bottle of champagne in our cabin plus a selection of chocolates – as returning passengers. This would be our fourth Clipper Cruise although the first in South-East Asia (the other three having been in the Mediterranean).
It is a wonderful experience to sit on the, deck a glass of champagne in hand and watch the scenery and the sunset.