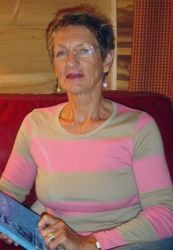 Susan Steggall
Susan Steggall is a writer and an art historian with a PhD in Creative Writing allied to a Master and a Bachelor Degree in Art History and Theory. Publications include: Alpine Beach: A Family Adventure (1999; translated by the author into French as Sydney-en-chablais: aventure savoyarde d'une famille australienne); two novels, Forget Me Not (2006) and It Happened Tomorrow (2013), plus art-related articles, exhibition and book reviews, book chapters and essays. She has edited numerous anthologies for the Society of Women Writers NSW Inc and was editor of the ISAA Review (the journal of the Independent Scholars Association of Australia Inc) from 2010-2015. She has taught courses in Approaches to Australian Art, Writing Art and Design, Audiences for Art at COFA.
Her biography, A Most Generous Scholar: Joan Kerr, Art and Architectural Historian(LHR Press, 2013) was a winner in the Non-Fiction section of the 2013 Society of Women Writers NSW Inc's Biennial Book Awards.
E-BOOKS: I am delighted to announce the e-book versions of 'Alpine Beach: a family adventure' and its French version 'Sydney-en-Chablais: aventure savoyarde d'une famille australienne' (available in versions suitable for all e-readers). These publications recount the ten years, from September 1978, that we (John, Susan, son Zeke and daughter Zali) left Australia to live in the Alps of south-eastern France, so beginning an extraordinarily successful relationship with wintersport competition and a lifelong love affair with Haute-Savoie, its people and special places.
While I did have reservations about the wisdom (or folly?) of translating into someone else's language (as Diego Marani writes in 'The Interpreter', his latest book: 'Languages are like toothbrushes: the only one you should put into your mouth is your own'), I did it in the spirit of communication to share the record of my children's formative years with the French parents of their peers. Several friends said: 'Oh but, Susan, when we read your book, 'Sydney-en-Chablais' we hear you speaking'. At its most fundamental language is how we communicate with others so I guess I'm happy with that.
www.steggalls.com for details about both books.